Complete Story

12/01/2017
Print Week 2018 - Save the Date
Join us to review and honor all the wonderful printed work in Ohio and N.Kentucky. Put your region's event on your calendar, celebrate the best of the best AND take part in choosing the best of the best. Attend one (or more) of the three regional banquets and you can vote for that region's People's Choice Award. Registration is coming soon!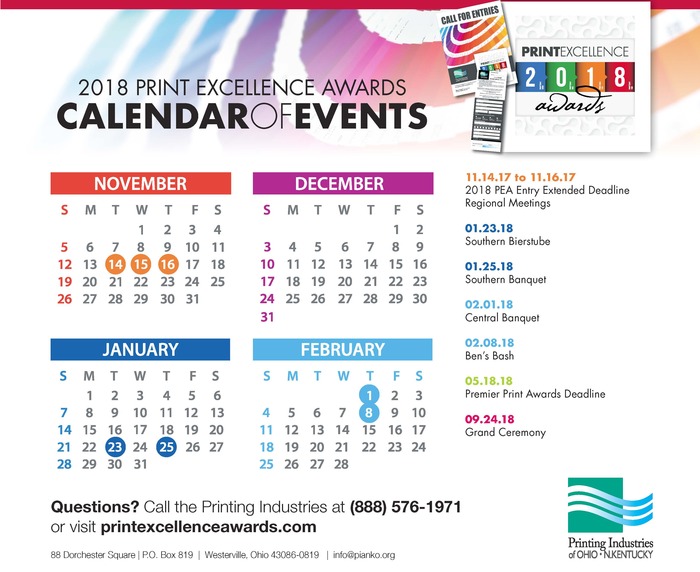 Print Week Events:
In the South, join in the fun at our annual Bierstube at the Hofbrauhaus in Newport, Ky on Tuesday, January 23th from 5:30-7:30 pm. Bring your press operators, bindery workers, customer service reps and your graphic designers for a few hours of fun and networking. This is a great opportunity to catch up with old friends and make new ones.
Hofbrauhaus
200 East 3rd Street
Newport, KY 41071
Also in the South, you can attend the annual Southern Region Banquet to honor the Print Excellence Award winners and vote for the People's Choice Award winner. We will also be presenting the 30th Maxwell Winner Award and the 55th Printer of the Year Award. The Southern banquet is set for Thursday, January 25th starting at 6:00 pm.
Kenwood Country Club
6501 Kenwood Rd.
Cincinnati, OH 45243
The Central Region Banquet will honor Print Excellence Awards winners at the Creekside Conference and Event Center in Gahanna on February 1st, at 6:00 pm. The banquet will start at 6:00 p.m.
Creekside Conference and Event Center
101 Mill Street, Suite 300
Gahanna, OH 43230
The Northern Region combines the fun and the awards at the annual Ben's Bash. Join us at the 100th Bomb Group! Held on Thursday, February 8th at 6pm, this event will be the highlight of the print scene. Don't miss it!

The 100th Bomb Group
20920 Brookpark Road
Cleveland, OH 44135
←
October 2018
→
S
M
T
W
T
F
S
1
2
3
4
5
6
7
8
9
10
11
12
13
14
15
16
17
18
19
20
21
22
23
24
25
26
27
28
29
30

The Cincinnati Insurance Company

October 30, 2018

31
October 18-20, 2018
Las Vegas, NV
---
October 30, 2018
The Cincinnati Insurance Company
---
November 2, 2018
---
November 13, 2018
---
November 14, 2018
View all »