Print Week
Printing Industries of Ohio • N.Kentucky joins in the celebration hosting Printing Week events in each of the Association's three regions. Come join the fun at our Annual Bierstube in the Southern Region and the ever popular Banquets held in all three regions. There is something for everyone as we celebrate print by getting together for fun, camaraderie and to celebrate the award-winning entries into our Print Excellence Awards.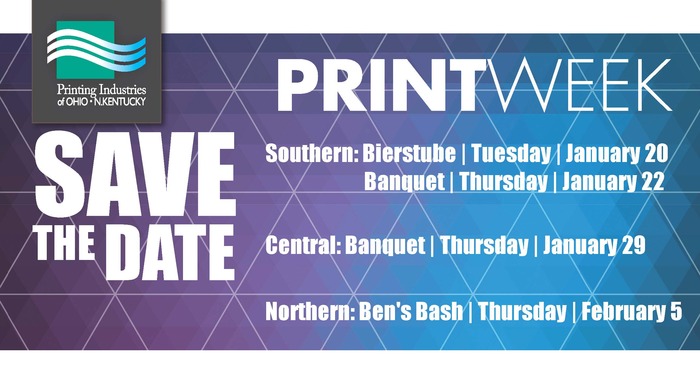 In the South, join in the fun at our annual Bierstube at the Hofbrauhaus on Tuesday, January 20th from 5:30-7:30. Registration coming soon.
Also in the South, you can attend the annual Southern Region Banquet to honor the Print Excellence Award winners and vote for the People's Choice Award winner. Taking place on Thursday, January 22nd at 6pm. More details and registration coming soon.
The Central Region Banquet will honor Print Excellence Awards winners at the Creekside Conference and Event Center in Gahanna on January 29th, at 6pm. More details and registration coming soon.
The Northern Region combines the fun and the awards at the annual Ben's Bash. Join us at a new location this year, The Plain Dealer! Held on Thursday, February 5th at 6pm, this event will be the highlight of the print scene. Don't miss it! More details and registration coming soon.
←
December 2014
→
S
M
T
W
T
F
S
1
2
3
4
5
6
7
8
9

Cornerstone, 2101 Florence Ave. Cincinnati OH 45206

10
11
12
13
14
15
16
17
18
19
20
21
22
23
24
25
26
27
28
29
30
31
December 18, 2014

10:00AM
---
December 24-25, 2014
---
Dec. 31, 2014 - Jan. 1, 2015
---
Dec. 31, 2014 - Jan. 1, 2015
View all »