iLearning Center
PRINTING United Alliance (formerly PIA) has prepared an introductory tour of the newly-revised iLeaning module. This tour will cover the courses and certifications available, how to navigate the website, login procedure and how to obtain login credentials if you don't have a login already.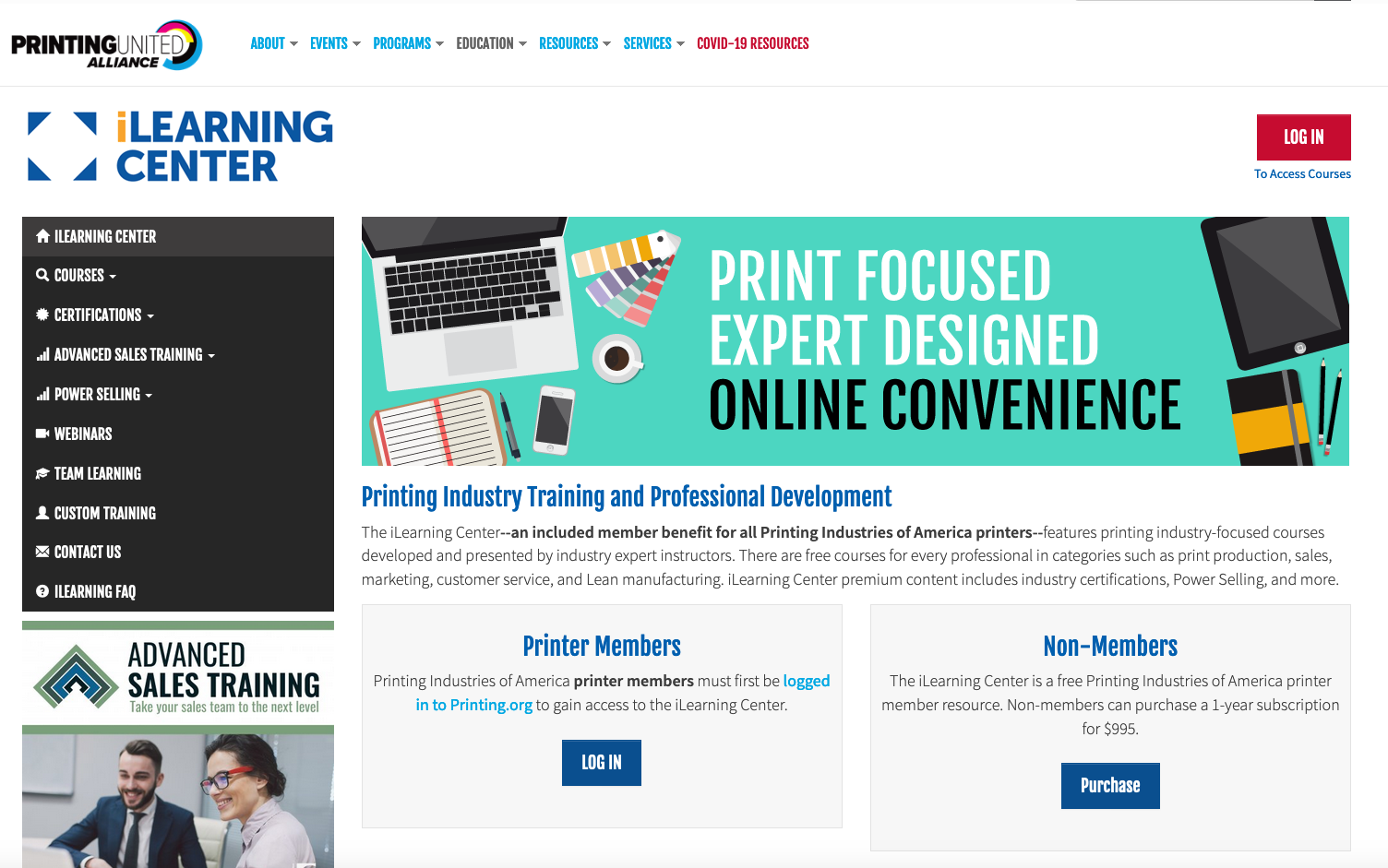 View the introductory video here. WARNING: This is a large file (143 MB) and will take several minutes to download.
Access the iLearning Center here.
---
Current Course Content
Learn something new or brush up on your skills in this FREE Printer Member benefit. All courses are developed and taught by industry experts and are tailored to the printing industry. Courses are open now and more will be added throughout 2018.
MARKETING
ORIENTATION
PREPRESS
PRESS
PREMIUM COURSES
SALES
CERTIFICATIONS: IPP & CSP
POWER SELLING
CUSTOM TRAINING
---
Industry Leading Professional Development
The Integrated Learning Center -- an included member benefit for all PRINTING United Alliance -- features industry-focused courses developed and presented by industry expert instructors. There are free courses for every professional in categories such as print production, sales, marketing, customer service and lean manufacturing. iLearning Center premium content includes industry certifications, Power Selling, and other programs.
Printer Members
PRINTING United Alliance printer members must first be logged in to Printing.org to gain access to the iLearning Center.
Vendor Members
PRINTING United Alliance vendor members can purchase a 1-year subscription to the iLearning Center for $195.
Contact your BDD if you need more information about the iLearning center.