Complete Story

03/13/2023
February 2023 Printing Industry Performance and Insights Study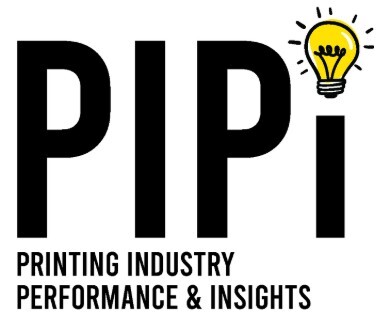 February 2023, PIPI Study – Building Financial Benchmarks
Survey has been extended until Monday, March 20!
Industry financial benchmarks help in budgeting, making strategic decisions, and finding a path to high performance. Therefore, financial benchmarks are a very helpful management tool. So, we are excited about the February PIPI survey, which will build financial benchmarks for printing firms. To make our financial benchmarks credible and valid, we need a bunch of completed surveys. So, printing company leaders, after receiving a survey invitation, please open the survey and complete it. Help us develop knowledge that will help you!
Key points of the survey:
Our goal is to provide members with useful financial benchmarks they can apply in making strategic decisions and finding a path to solid performance.
Furthermore, we plan to provide financial benchmarks for different industry segments (solely digital commercial printers, digital and sheetfed commercial printers, label printers, web printers, etc.). To do this, we need a bunch of completed surveys.
We do not ask respondents about their identity. We will not share our data with anyone. We keep the data gathered confidential!
Before opening the survey, members should have their 2022 annual income statement and year-end balance sheet open. If respondents apply a fiscal accounting year ending on a date other than December 31st, they should use their financial statements from their fiscal year that ended in 2022.
We will keep the survey open until March 20.
---
PIPI - Putting Tools in Your Tool Box
Source: Ralph Williams, Jones College of Business / Middle Tennessee State University, January 23, 2023
Through the wonderful help and support of fifteen regional printing associations, we started conducting the PIPI (Printing Industry Performance and Insights) studies about two years ago. Wow! – time goes by. Our process has evolved a bit. However, our goal hasn't changed. We aim to provide you (printing company leaders) with actional advice and knowledge, tools for your management/leadership toolbox.
To provide you with more actionable knowledge, I collaborate with other professors to design the PIPI studies and write our reports. After dissecting the data, my colleagues help me answer questions like: So what? What are the helpful takeaways? What does this mean to printing firm leaders? And what other suggestions might we share with printing firm leaders relevant to the topic we explored? The professors who help me with the PIPI studies bring valuable knowledge from their fields of study. For instance, in our recent paper supply study, supply chain professors were very helpful in producing actionable knowledge. Economic, human resource, and strategy professors have also contributed to our recent PIPI studies, and we hope to engage leadership professors in future work. Engaging other business professors helps provide you with actionable knowledge, which, in turn, provides you more tools and sharper tools for your management toolbox.
PIPI conducts three surveys per year. We aim to make the PIPI surveys more concise and focused, so here's our plan for the three PIPI studies we plan to conduct each year:
February: Build industry financial benchmarks to which you can compare your numbers. This information will assist you with budgeting and developing strategies to enhance financial performance.
May: Explore relevant management topics, such as strategic planning, leadership, human resources, operations, and others, specifically focusing on our industry. Relevant topics we've recently addressed include effective recruiting approaches, how to best manage paper supply chain issues, and what management practices, when combined, produce the best performance.
October: The economic environment, how it is affecting our industry, and printing company leaders' future business outlook. From this knowledge, you can compare your sales trends to related firms. Also, you can view the big picture of business outlook among printing firm leaders. Seeing this view of the printing industry outlook may help you in making investment decisions, such as new equipment, facility expansion, or acquiring another firm.
Our industry is very diverse, including label printers, commercial printers, digital printers, web printers, and others. In our PIPI studies, we explore topics from the view of different printing industry segments. From this approach, we seek to provide you with actionable knowledge that fits your firm.
How to use PIPI reports in your firm?
Ask your leadership team to review the report and think about these questions:
What in the report is relevant to us?
Where are we now regarding the topic addressed in the report?
What, if any, changes should we consider?
Then, gather with your leadership team to have an open discussion about the topic addressed in the PIPI report. Use our reports to generate "good thinking" among your leadership team. This might also prompt more of a "team" approach with your leaders.
We much appreciate your participation in our PIPI surveys. If you have any questions or suggestions, please email me at ralph.williams@mtsu.edu
---
Dr. Ralph Williams has years of leadership experience in the print industry, including as a business owner. Ralph earned a Doctorate in Business Administration from Kennesaw State University and now serves as an Associate Professor of Management at Middle Tennessee State University. He teaches strategy, entrepreneurial financial management, family business, and management principles. Ralph works with printing industry associations to conduct and provide insightful industry studies (PIPI: Printing Industry Performance and Insights).
---