Complete Story

03/09/2018
President's Conference Recap
Twenty Association members, families, and friends from Ohio and Northern Kentucky attended this past weekend's PIA President's Conference in San Antonio, Texas. An Association and New Direction Partners sponsored dinner on Sunday evening on the River Walk kicked off three days of excellent speakers and events highlighted by a Monday luncheon recognizing the Best Workplace in America winners. We were very well represented with Hopkins Printing accepting a Best of the Best Workplace awards, and both Phototype and Steinhauser winning Best Workplace awards. Steinhauser was a first time entry so it is even more impressive, if possible!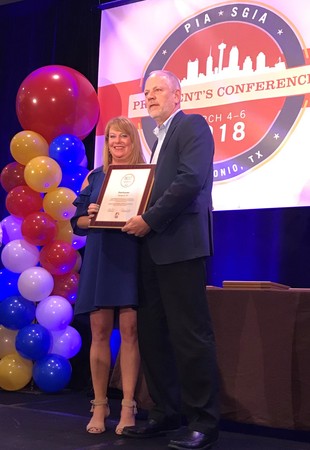 Jim Cunningham had the honor of presenting
the Best Workplace Award to Tara Halpin,
President of Steinhauser.
We were also very well represented in the Women in Print session with Tara Halpin, Michelle Waterhouse, and Rachel Rossman actively participating. David Mauro from All Covered, and one of our Association members and presenter at last year's Leadership Conference, did his best to scare the heck out of members from across the country on the topic of Cyber Security.
There were outstanding national speakers and incredible networking opportunities. It was a great conference and we were well represented. I think everyone who attended will highly recommend joining the group next year!
---
This year, there are four Association members who are recent winners of the 2018 BWA competition:
Hopkins Printing has received the Best of the Best Designation, and was one of the few to receive the Safety Shield award. Hess Print Solutions also received the Best of the Best Designation. Earning the Best Workplace award were Phototype and Steinhauser. These Association members have established their companies as outstanding places to work, with employers who greatly value their employees.
Congratulations to these great workplaces! You can learn full details of the BWA program at www.printing.org/bwa.
←
December 2018
→
S
M
T
W
T
F
S
1
2
3
4
5
6
7
8
9
10
11
12
13
14
15
16
17
18
19
20
21
22
23
24
25
26
27
28
29
30
31
January 22, 2019
5:30-7:30PM
---
January 24, 2019
6:00-9:00PM
---
January 31, 2019
6:00PM
---
February 7, 2019
6:00-9:00PM
View all »