Complete Story

11/09/2017
Remember Your PEA Contest Entries!
Last chance to include your entries in the 2018 Print Excellence Awards competition. Remember that all of these events will celebrate the award entries and winners: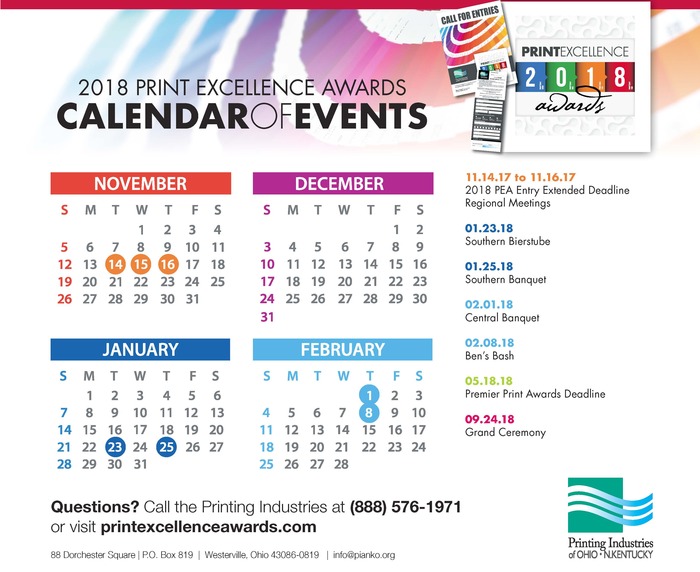 For just $35 per entry (and even less if you've never entered before!), you can enter the 2018 Print Excellence Awards. Your entry will be judged by an independent panel of judges, both on its own merits and in comparison to entries by your peers.
There are 34 separate categories of entries, some of which have significant sub-specialties. Do you do gorgeous posters? Specialty finishing? Are you the master of environmentally sound materials? There is a category for you!
Reward those hardworking employees by showing them you value their work by entering it to be judged against the best work of your competitors.
It's great self-marketing. Which, by the way, is a category in the print contest! Show the judges how you advertise your own work.
Best of Category winners receive a free entry into the PIA's Premier Print Awards. It's time to gather those great printed pieces and send them in!
Check out www.printexcellenceawards.com for more contest info.
Read more about the 2018 Print Excellence Awards.
2018 Print Excellence Awards - Call For Entries
2018 PEA Call for Entries - Fill-in-Form
←
December 2018
→
S
M
T
W
T
F
S
1
2
3
4
5
6
7
8
9
10
11
12
13
14
15
16
17
18
19
20
21
22
23
24
25
26
27
28
29
30
31
January 22, 2019
5:30-7:30PM
---
January 24, 2019
6:00-9:00PM
---
January 31, 2019
6:00PM
---
February 7, 2019
6:00-9:00PM
View all »