Details

October 18-20, 2018
SGIA Expo
Las Vegas, NV
October 18-20, 2018
In addition to hosting more than 500 exhibitors, the 2018 SGIA Expo (October 18–20, Las Vegas) will take an in-depth look at the latest printing technologies, applications and opportunities through its 72-session educational program.
With the Expo + Education Pass, attendees will have access to the array of educational sessions, designated by tracks that indicate content specific to industry segments and areas of crossover. 
"Staying competitive in today's printing industry requires strong industry-specific knowledge," said Dan Marx, Director of Content Development, SGIA. "The educational programming at this year's SGIA Expo has essential, up-to-the-minute information for printing businesses seeking to reinforce their current plans, or launch their businesses toward new, profitable opportunities. With the Expo + Education Pass, attendees can receive top-quality information at a bottom-line-friendly price." 
The Expo + Education Pass is free for SGIA members and, for a limited time, $99 for nonmembers. Attendees can also participate in two pre-Expo half-day sessions — "Essential Small Business Strategies" and "Wide-Format 101: Essential Skills for Success" — for which separate registration and fees are required. 
The 2018 SGIA Expo will be held at the Las Vegas Convention Center. For more information and to register, visit sgia.org/18.
Visit their website: www.SGIA.org/18
Call with questions: 703-365-1335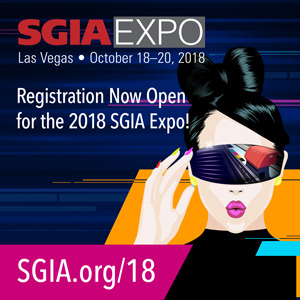 2018-10-18
2018-10-20
America/Detroit
SGIA Expo
  October 18-20, 2018 In addition to hosting more than 500 exhibitors, the 2018 SGIA Expo (October 18–20, Las Vegas) will take an in-depth look at the latest printing technologies, applications and opportunities through its 72-session educational program. With the Expo + Education Pass, attendees will have access to the array of educational sessions, designated by tracks that indicate content specific to industry segments and areas of crossover.  "Staying competitive in today's printing industry requires strong industry-specific knowledge," said Dan Marx, Director of Content Development, SGIA. "The educational programming at this year's SGIA Expo has essential, up-to-the-minute information for printing businesses seeking to reinforce their current plans, or launch their businesses toward new, profitable opportunities. With the Expo + Education Pass, attendees can receive top-quality information at a bottom-line-friendly price."  The Expo + Education Pass is free for SGIA members and, for a limited time, $99 for nonmembers. Attendees can also participate in two pre-Expo half-day sessions — "Essential Small Business Strategies" and "Wide-Format 101: Essential Skills for Success" — for which separate registration and fees are required.   The 2018 SGIA Expo will be held at the Las Vegas Convention Center. For more information and to register, visit sgia.org/18. Visit their website: www.SGIA.org/18 Call with questions: 703-365-1335
Las Vegas, NV
←
April 2019
→
S
M
T
W
T
F
S
1
2
3
4
5
6
7
8
9

Roundstone 15422 Detroit Road Lakewood, OH  44107

April 9, 2019




7:30-9:00AM

Cornerstone, 2101 Florence Ave. Cincinnati OH 45206

April 9, 2019




7:30-9:00AM

10
11
12
13
14
15
16
17
18
19
20
21
22
23
24
25
26
27
28
29
30
May 7, 2019
10:00AM-12:00PM
88 Dorchester Square, Westerville, OH
---
May 14, 2019
11:00AM-1:00PM
Location: Konica Minolta
---
May 15, 2019
11:00AM-1:00PM
Location: CareWorks
---
May 16, 2019
11:00AM-1:00PM
Location: Cornerstone
View all »